PROFESSIONAL CARE FOR YOUR HORSES
Cedarwood Farm is the base for Daybreak Stables, Inc, and home to our Thoroughbred racehorses, broodmares, young horses, sport horses, and retirees. As we have reduced our number of horses in race training, we have opened up space across our property, rolling fields and pastures.
We fully understand how much benefit horses can bring to the human experience, the bonds we naturally forge with the horses who come into our lives, and we know it is a perfect fit to offer Cedarwood Farm to a select, limited number of special horses looking for the ideal situation in which to spend their well-earned retirement. We also offer services for breeders looking to complete the Virginia Certified Program. Our facility and our skill set are uniquely suited to offering custom levels of "gold standard" horse care for those owners who want to find the idyllic situation, with hands-on daily professional care, for their equine partners. We offer 2 levels of premier service for your horse, neither of which are the typical large-herd type experience. We welcome your exploration of our services and our facility. If you have questions, we are here to answer them. We love our farm and our animals, and would love to share them with you and yours.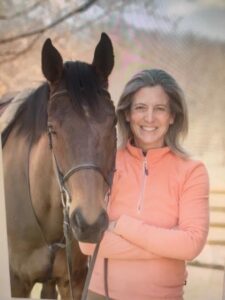 Who We Are
Jimmy and Emily Day are lifelong horsemen. Married in 1989, Jimmy began his own successful training career of flat and steeplechase horses. Now broodmares and their offspring are his focus, as well as establishing a premier Virginia horse retirement farm. Emily is the Director of the Upperville Colt & Horse Show, and enjoys making retired racehorses into prospects for new careers as sport horses.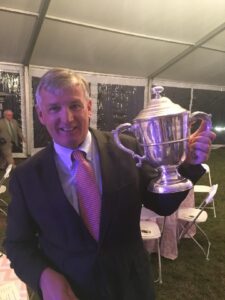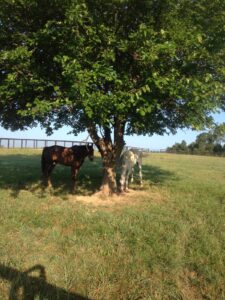 Your horse will be turned out 24/7 in small groups of 2-4 horses in paddocks of roughly 6-12 acres each. Paddocks are rotated and rested throughout the year, so the quality of the grass forage is maintained and we are able to manage fertilization and seeding of rested pasture.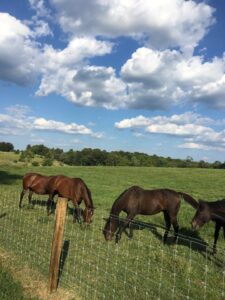 Our version of large group turn-out is quite premium! Your horse will be in a group of 3-6 horses on 15-20 acres of fenced, rolling pasture. These fields have roomy sheds and top-quality orchard grass or orchard grass-alfalfa mix hay is available in the sheds, free choice, year-round.